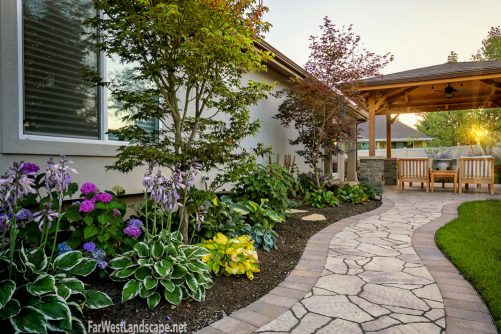 Congratulations! You are consulting our professionals for the design and installation of your landscape! In doing so, you will save yourself valuable time and energy. Our landscape design approach has taken Idaho's ordinary backyards and transformed them into landscapes that reflect how our clients and their families enjoy their outdoor time at home. We feel that your yard is more than shrubs and a patio; it's the place where memories are made. We truly enjoy creating an outdoor living space that reflects your desires and give you years of enjoyment. 
FarWest Landscape & Garden Center is a full service Treasure Valley landscape design and build company, specializing in residential and commercial landscaping. We have served the Boise community and Treasure Valley for 46 years, taking great pride in creating functional and aesthetically pleasing garden landscapes for our clients in Idaho.
FarWest's design team has decades of experience and your consultation with your landscape designer will start with a simple handshake at your front door. Seeing your living space speaks volumes about your needs in terms of landscape design and construction. We want to know how you would like to use your backyard; gardening, relaxing, entertaining, family time and pet needs.
We will develop a plan that encompasses our landscape design talent and your desires for your outdoor living space. Once your landscape plan is drawn, we meet with you and go over all aspects of your project. Any changes that you would like to make are adjusted as the very next step. Together, we go over the final estimate and landscape design plan before scheduling the installation. We look forward to helping you enjoy your new landscape and outdoor space!